Biolane Expert Bio Cicabebe Ointment 40ml
Our bestselling CicaBébé 3 in 1 effectively and safely prevents and relieves skin complaints in babies such as localized dryness, irritation around the mouth, skin folds, scratches, insect bites, cradle cap, and the like. Composed of natural origin ingredients, it is hypoallergenic and free of sulfates, alcohol, soap, parabens, phthalates, and phenoxyethanol.   
Made with Hydra-bléïne, our unique plant-based patented innovation, which is scientifically proven to protect and moisturize your baby's skin and hair. 
Key features:
Formulated at a physiological pH level

Tested under dermatological control

Proven efficacy from the first application

Instantly and intensively soothes irritated areas by 91%

Soothes and heals within 5 days by 97%

Relieves feelings of discomfort by 91%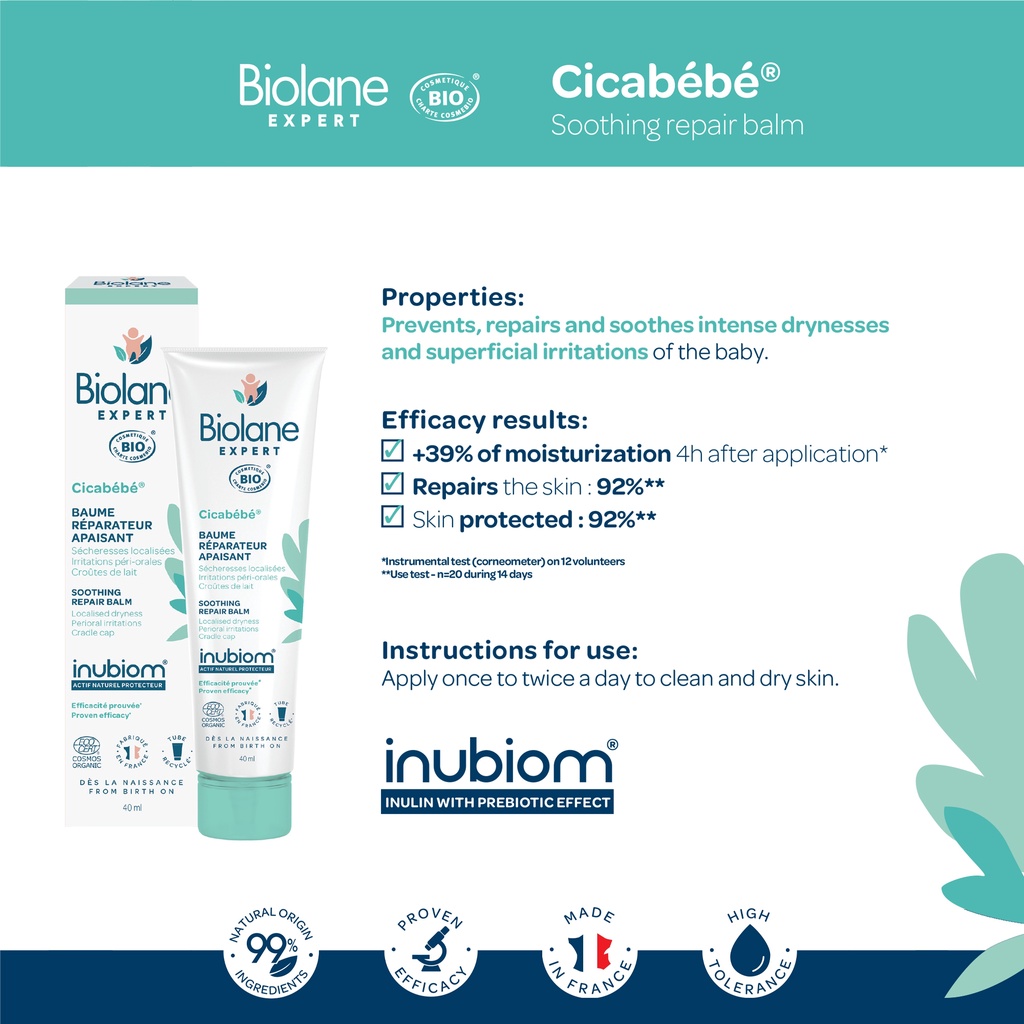 - Trusted by 90% of French pediatricians for over 50 years
- Made for the most sensitive skin and with natural origin ingredients
- Hypoallergenic, unscented, and formulated at physiological pH
- ZERO alcohol, soap, parabens, phenoxyethanol, phthalates, and gluten
- PREVENTS and RELIEVES skin disorders
- BEST to apply after cleaning the area and re-apply often
- SAFE to use on newborns and older
Application mode:
Apply daily to dry or irritated areas with a light massage. Make sure the skin is perfectly clean before using the treatment. For milk crusts, apply CicaBébé® 3 in 1 preferably in the evening to let it work all night.
INGREDIENTS:
PARAFFINUM LIQUIDUM, CERA MICROCRISTALLINA, PARAFFIN, CETYL PALMITATE, BETA-SITOSTEROL, BISABOLOL.